Welcome to Houze Of Phat Productions!
With over 30 years of recording and live sound experience, there's no guessing as to if we know what we're doing!



Recent Works
These are the most recent clients currently being recorded and mixed at Houze of Phat Productions.
Raymond and Kim
The creative work and collaboration between this dynamic dou and Roderick Carter has produced yet another hit song!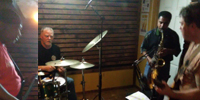 Red Umber
From the Triad comes the fusion sounds of the band Red Umber! Recording in the Houze for the first time. Check them out on Reverbnation!
Jessie OBanner
Jessie OBanner chose HOPP to record and mix the latest gospel project by Anissa Howerton. Look for it and buy it today!
Our Services
HOPP is not a public studio and we only accept referred clients or new clients we feel would be a good fit for us.
Private Recording Sessions
Our recording sessions are fun, informative and detail oriented. We don't take every client and we do not take walk ins.
Remote Vocal Recording
With the latest technology, you can now do your vocal session from the comfort of your own home or studio directly into our studio in real time.
Mixing & Mastering
Sometimes you may want to record at home on your own system but need it professionally mixed. Perhaps you have it mixed but need it mastered. We can do both!
Password Reset
Please enter your e-mail address. You will receive a new password via e-mail.